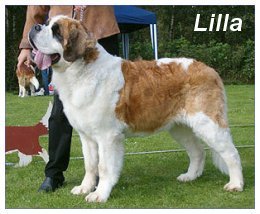 INT NORD UCH NUCH SUCH DK CH
ST.ZAMBA'S HEART O'ROZES
"Lilla"

Born: 08.03.2002 Died: 10.08.2011 HD:A / ED:A
Sire: NUCH SUCH THAI CH
Ralfa's Bjarne After Knight Templar HD:A/ED:C
Dam:INT NORD UCH Calmato's National Rose HD:B

Pedigree Showresults Album


Lilla was one of 4 puppies in my H litter, and she is the only one who stayed in Norway.
Lilla never found her place among the other females in the kennel.
She was very strong minded
and only a couple of the males could live together with her.
But still she was the kindest, sweetest girl to all people
and also to her puppies.
She became the mother to my M, O and R litter,
and many of her offspring have become international champions and
important dogs in breeding all over the world.
Lilla herself also became a great showdog winning several club-show
and titles.
Lilla was allways so strong, she never complained about anything.
allways happy right until the end.
She was never sick for one day in her whole life,
not until she started limping more and more on her front leg....
The exray showed bone cancer and some of her sholder was gone..
So just like you Lilla had loved and protected me your whole life,
I had to protect you from more pain and let you go
You was probably the most difficult and strong-minded dog I ever had,
and I loved you dearly because of all your speciallites!!
Thank you Lilla for your unconditional love and all the happines you gave me during 9,5 years!!
You will never ever be forgotten !!